One prep. Eight servings. Options for days.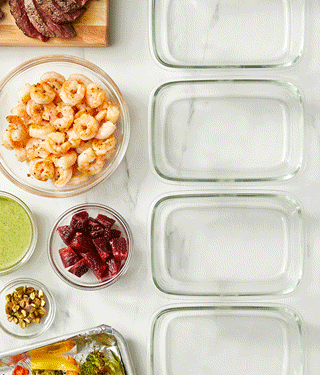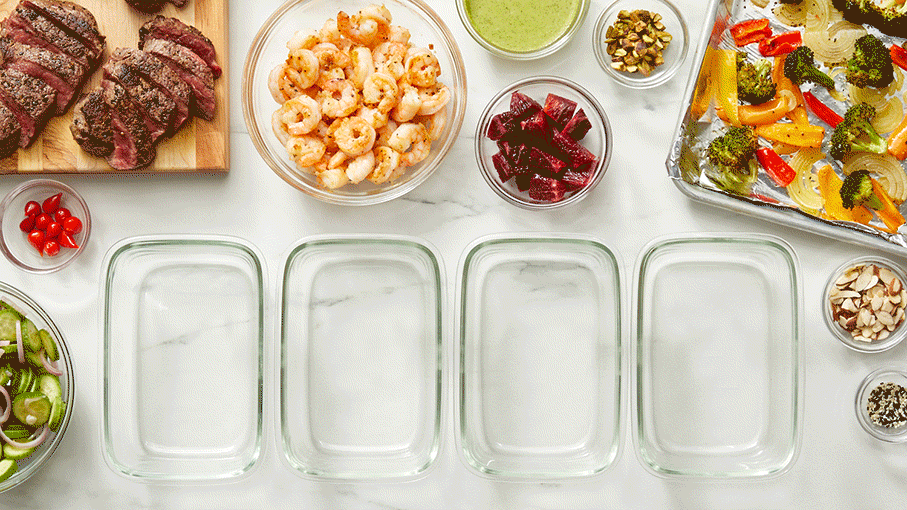 When you crave wholesome, homemade meals but don't have the time for daily cooking, we make things easy. With Meal Prep by Blue Apron, one streamlined, 90-minute cooking session gives you a variety of flavorful meals with multiple servings each. Take them to work, reheat them at home—do what works for you.
New flavors, ingredients, variety—it's what you love about Blue Apron, made for your schedule.
Select Meal Prep from the drop-down menu on the Upcoming page.
Each box is full of fresh produce, flavorful spices and sauces, and proteins that fit your lifestyle.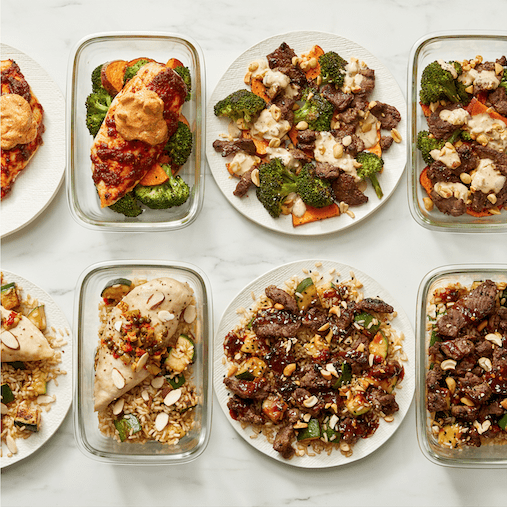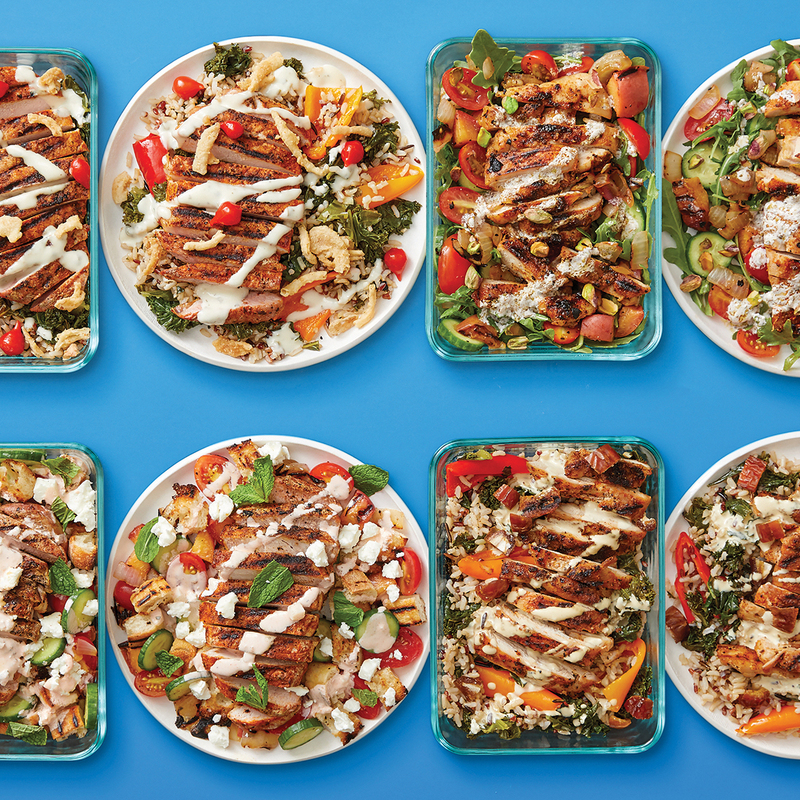 Love Blue Apron Signature? This is the plan for you. Enjoy the recipes you know and love, now designed to create make-ahead meals.
4 dishes, 2 servings each
$8.99/per serving or $71.92 for the box
Discover meal prep designed for a healthy lifestyle. These recipes replace refined carbohydrates with high-fiber foods like veggies and whole grains, all with 42g or less of net carbs per serving.**
4 dishes, 2 servings each
$8.99/per serving or $71.92 for the box
These recipes include fish or seafood, as well as other protein sources like eggs and tofu, and are accompanied by sides like veggies and rice.
4 dishes, 2 servings each
$8.99/per serving or $71.92 for the box
Soak up summer with seasonal recipes that include meat, fish, and veggies ready to grill up for sandwiches, salads, rice bowls and more.
4 dishes, 2 servings each
$8.99/per serving or $71.92 for the box
How it works, step by step



Have questions? We have answers.
First thing's first: What is meal prep?
The term "meal prep" is regularly used to describe cooking multiple meals at once, to eat later when cooking may be inconvenient. A common example: Cooking weekday meals on Sunday.
How do I order meal prep recipes? How does it fit with my normal Blue Apron plan?
To view each week's Meal Prep menu, look for the "Meal Prep Menu" option in the drop-down menu on the Upcoming page. In our apps, look for this drop-down when you're editing your recipes for the week.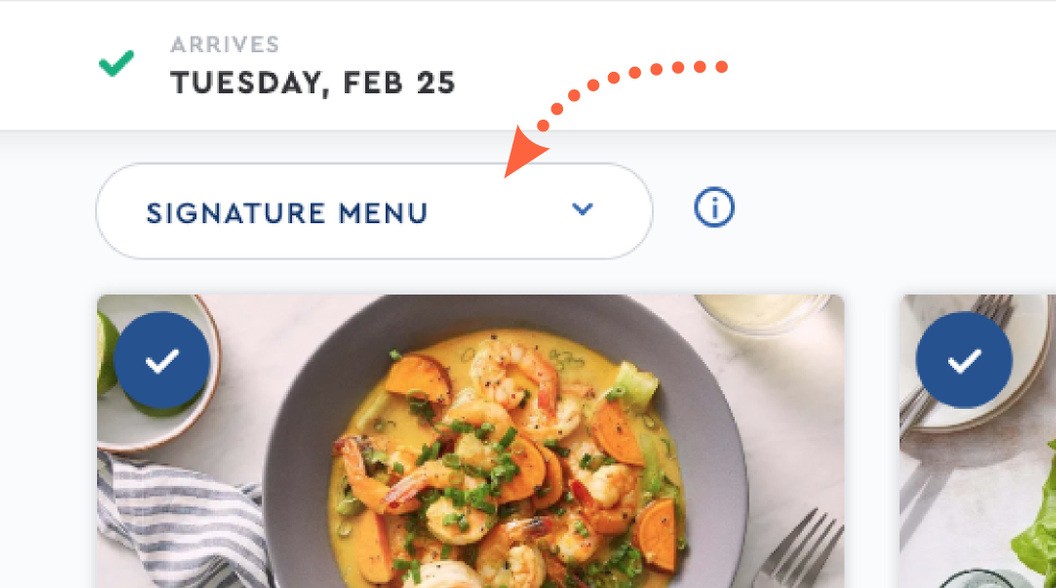 What's the cost breakdown per meal?
Each meal comes in at $8.99/per serving or $71.92 for the box—an incredible value for chef-created meals that give you variety and convenience. It ships free and is currently available to customers in select states along the east coast and Mid-Atlantic. We plan to extend this offering nationally later this year.
What kinds of recipes can I expect with Meal Prep by Blue Apron?
Meal Prep by Blue Apron allows you to cook one time and get 8 servings of food. Depending on the box you choose (Signature, Carb Conscious, Pescatarian, or Multi-cooker), you'll receive 2-4 different dishes that can be prepared in under 2 hours using one streamlined set of steps. This means you get to enjoy a variety of tasty meals instead of eating the same thing day after day. We'll be featuring many styles of recipes that include bold flavors from around the globe.
How is meal prep different than my normal Blue Apron box?
With Meal Prep, you can still expect chef-designed dishes that use high-quality, pre-portioned ingredients and easy-to-follow recipe cards. However, we've redesigned the process to better suit your busy life. Our chefs have streamlined the cooking of multiple recipes to create one easy-to-follow process that yields the most food in the shortest amount of time. The best part? You get variety instead of eating the same thing day after day.
We've specifically chosen proteins, recipes, and cuisines that lend themselves well to being made ahead of time and enjoyed later. (For best taste, we recommend reheating and enjoying your meals within 4 days of preparation.) Our unique ability to help you create a variety of delicious dishes keeps meal prep interesting throughout the week, every week.
Note:
If you want to meal prep on the weekend, arrange for a delivery date on Friday.
What materials and tools do I need to do meal prep effectively?
You'll need 16 storage containers to hold your food and sauces—8 on the large side and 8 smaller containers for sauces and garnishes. We recommend glass for reheating in the microwave.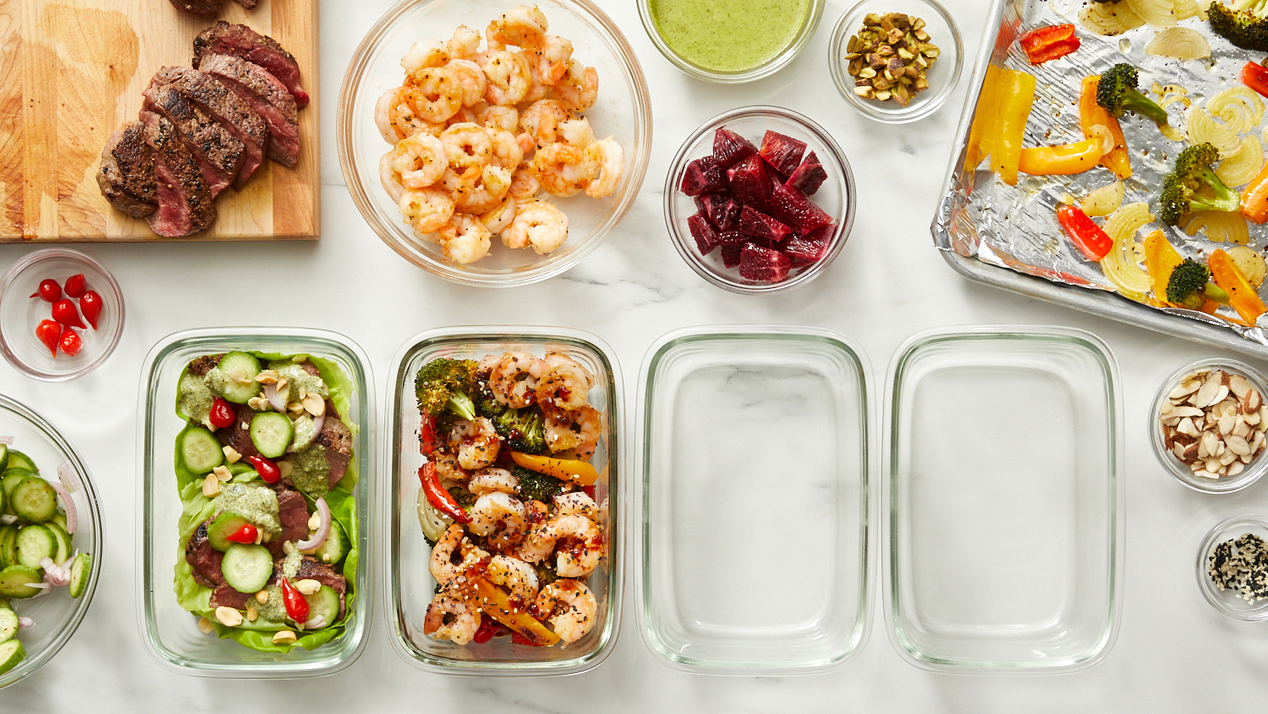 We've designed recipes that require minimal kitchen equipment—just one pot, pan, and up to two sheet pans will be needed to cook these recipes. A few mixing bowls will also be helpful.
For multi-cooker recipes, you'll need the same tools as a "regular" meal prep recipe, with the obvious mandatory piece being a multi-cooker with a pressure cooking function.
Round out the above with a cutting board, peeler and a knife. You'll provide the olive oil, salt and pepper that you normally have on hand.
Don't forget to clear out fridge space to hold all of your meals!
How long does it take to meal prep with Blue Apron?
We've designed an experience that should take no more than 90 minutes to 2 hours.
Is meal prep available every week?
Yes. The recipes for each box change every two weeks. You can opt into Meal Prep at any time.
How much food is included? How many meals do I get?
Each box comes with ingredients and recipes to create 8 make-ahead servings. This means 4 recipes of 2 servings each when you order the Signature, Carb Conscious, and Pescatarian boxes; this means 2 recipes of 4 servings each for the Multi-cooker box.
*Valid for first-time Blue Apron meal-plan subscriptions only. Discount is $20 off each of your first four deliveries. Payment card required to redeem. Limit one redemption per household. Not valid with other offers. May not be sold, resold, or redeemed for cash. Void where prohibited. Delivery restrictions may apply. For more information, see our Terms of Use and Privacy Policy.
**At least 25% less Net Carbs (Total Carbohydrates - Dietary Fiber) compared to the average Blue Apron recipe served in 2019. The average Blue Apron recipe provides 56g net carbs "as prepared" per serving.